Hospital

Profile

Hainan Modern Women and Children's Hospital, founded in 2004, is a large-scale modern grade A (grade A) obstetrics and gynecology hospital integrating medical treatment, prevention, health care, scientific research and teaching, with strong medical technical force. The building area is 130,000 square meters, and there are 434 approved beds. At present, there are more than 1,000 employees in the hospital which has introduced a large number of academic leaders and medical staff with rich clinical experience, scientific research experience and integrity from all over the country. More than 30 masters and doctors; More than 100 senior titles and 223 intermediate titles; There are more than 10 deputy chairmen of provincial special committees, and more than 20 provincial academic and technical leaders and candidates. It has won 7 national patents, 7 provincial and municipal scientific research projects, and published more than 50 medical papers in important journals.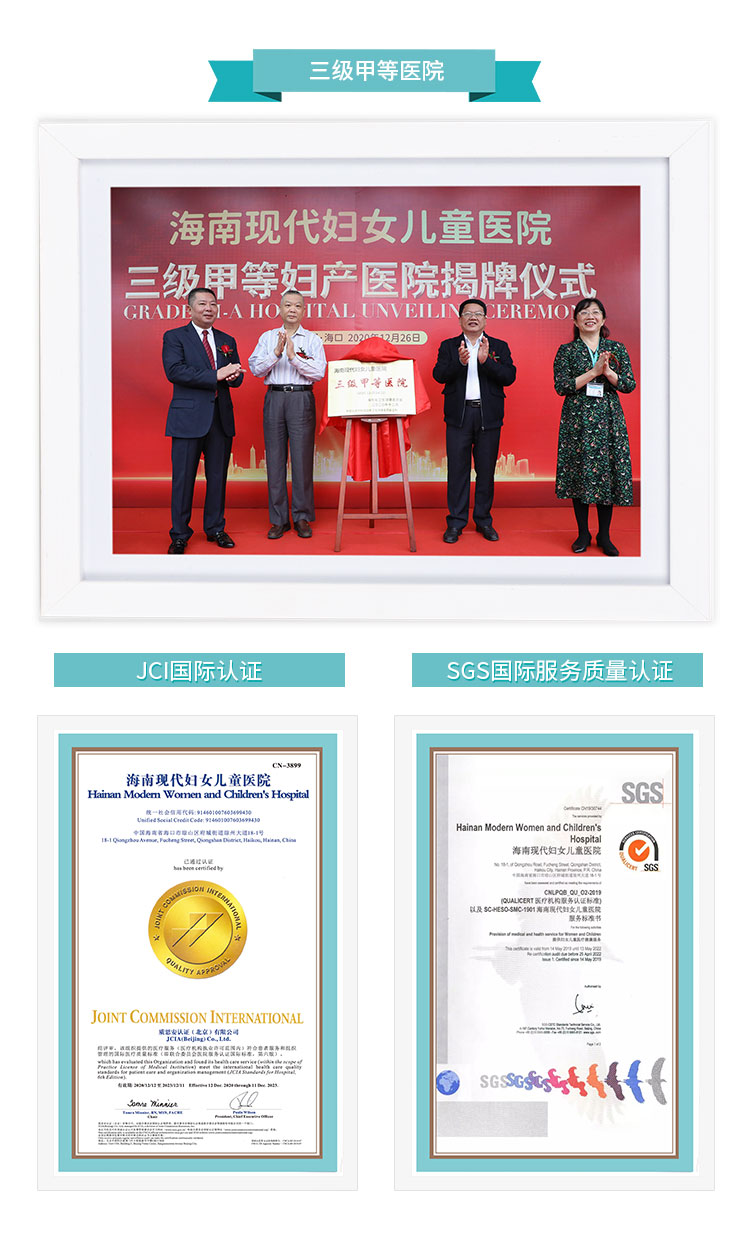 The hospital has passed JCI international certification for five consecutive times. In 2019, the hospital passed SGS International Service Quality certification. In 2020, the hospital passed the "Grade A class 3 hospital" evaluation. It is the first batch of national labor analgesia pilot hospital, baby-friendly hospital; Hainan Maternal and Child Health Medical Union Unit; the Teaching Hospital of Hainan Medical College; Hainan Midwifery Nurse Training clinical practice base; China Maternal and Child Health Association maternal and Child Health Vocational (post) training base, the first excellent medical and health care service institution promoting breastfeeding; Postpartum rehabilitation instructor training clinical practice center. It has been awarded many honorary titles such as "Advanced Health Unit of Haikou City", "Advanced Health Unit of Hainan Province", "Civilized Service Window of Haikou City", "Advanced Fire Safety Management Unit of Haikou City", "National PAC Quality Service Hospital", "Excellent Enterprise of Quality Management Tool Application of Hainan Province" and so on.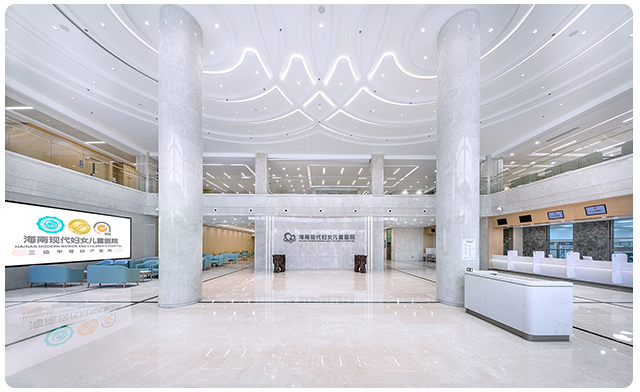 The hospital has more than 20 clinical and medical technology departments, including gynecology, obstetrics, reproductive medicine, pediatrics, neonatology, medical cosmetology, child health care, prenatal screening and diagnosis center, physical examination center, surgery, internal medicine, stomatology, ophthalmology, nutrition and emergency department. Among them, obstetrics, gynecology and pediatrics are provincial key clinical specialties in Hainan province. Hospital also has the delivery center, postpartum care center, neonatal ward escort services, child care centers and other characteristics. We provide premarital medical examination, optimal guidance of pregnancy, reproductive, pregnancy, prenatal care during pregnancy, childbirth, postpartum care, postpartum recovery, women health care, newborn and child health care, medical health management and medical services in whole life cycle. The diagnosis and treatment scale and technical level of diseases in obstetrics and gynecology, pediatrics and reproductive department rank among the top in the province, and the core indicators such as clinical pregnancy rate and live birth rate assisted by human reproductive technology rank among the top in the province. Obstetric emergency and critical care rescue ability is strong, obstetric rapid response medical team can carry out "immediate cesarean section". The treatment technology of dangerous placenta previa, bilateral uterine artery embolization and amniotic fluid embolization reached the leading level. Gynecology can carry out laparoscopic microsurgery, gynecological tumors and other difficult operations. The reproductive Medical Center has strong technical force, can implement artificial insemination, ivf and other assisted reproductive technologies, carry out painless egg extraction and other special projects, to provide professional and comfortable diagnosis and treatment services for infertility, reproductive endocrine diseases patients. Neonatology carries out the rescue of critically ill newborns and premature infants, one of whose minimum weight is only 500g and gestational age is only 25 weeks. The department of Medical Cosmetology mainly focuses on plastic surgery, minimally invasive treatment and non-invasive rejuvenation treatment. It has pioneered the new technology of precise stratified freckle removal, and also participated in the research and treatment of congenital malformation correction, repair and reconstruction, tissue regeneration, trauma repair and other aspects.

The hospital is equipped with cutting-edge international medical equipment imported from The United States, Japan, Germany, Israel, South Korea and other countries, including EmbryoScope+ jet lag culture system, CT, MRI magnetic resonance, mammography, gastroenteroscopy instrument, ultrasound instrument (E8, E9, E10), Sanoshow Icon "red muscle photon" machine. Hot Maggie, Felton Waltz hair removal apparatus, De Martha hydrolight machine and 3D laparoscopic equipment and testing equipment.

The hospital implements precise appointment for diagnosis and treatment, including one clinic for one person, one ward for one person, and one delivery room for one person. Patients can enjoy the diagnosis and treatment services of professional medical teams in exclusive private space. LDR integrated delivery room provides comprehensive care from labor waiting to postpartum, especially one to one responsibility system to accompany the delivery. The hospital took the lead in introducing a new family-oriented delivery mode in Hainan Province, and opened the only simulated delivery room in Hainan province to provide personalized, high-quality, customer-centered medical services, such as "painless" delivery, Doula delivery, family delivery, kangaroo care, postoperative rapid recovery care and other featured services. Provide personalized, high quality, customer-centered medical services.
There are two branches. One is Xiuying Branch located at No.28 Yongwan Road, Xiuying District, Haikou City, the other one is Fucheng Branch located at No. 18-1, Qiongzhou Avenue, Qiongshan District, Haikou City.
Our mission is to care for the health of women and children. Under the guidance of charity, integrity, dedication, excellence and the core values of "Quality is our dignity", we strive to achieve the vision of "building an international and high-quality women and children's Hospital". Become the health guardian that people always trust.